7th December 2017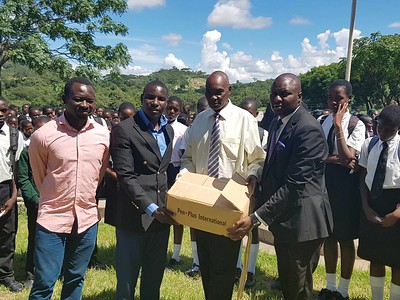 On Wednesday 6th of December 2017, Restoration of Human Rights (ROHR) Zimbabwe donated a consignment of pens to Mandalay Primary (formerly known as Nharira School and Junior Primary School) in Goromonzi South, Zimbabwe.
The initiative is part of a vision to invest in education and human resource capital as a means of positioning the coming generation to champion their destiny to unlock the potential Africa wields.
ROHR Zimbabwe partnered with a local community development group working in the area to promote community development and social change called Introspection Insights founded by one Clive Chiridza.
ROHR Zimbabwe was represented by its chairperson Ronald Mureverwi at the donation event.
The donation was under the auspices of ROHR Zimbabwe's Education Assistance Programme (EAP) which will see many needy schools around Zimbabwe receiving donations of pens and, possibly, other items of stationery from ROHR Zimbabwe
Mandalay school has an enrolment of over 500 students and 40% of them are in need of support to pay school fees.
ROHR Zimbabwe would like to thank all members of ROHR Zimbabwe's UK Chapter for mobilizing the resources that made shipment of the pens to Zimbabwe possible and for contributing towards the logistics of this particular donation process in Zimbabwe.
To view some of the pictures and a video taken at the event, click here or follow the link below.
https://www.flickr.com/photos/rohr_zimbabwe__manchester/albums/72157713806835471
By: Information & Publicity Department