21st September 2019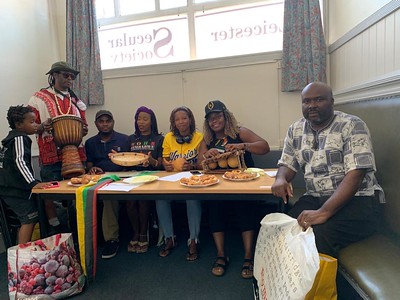 On Saturday the 20th of July 2019 the Midlands Branch of the UK Chapter of Restoration of Human Rights (ROHR) Zimbabwe held a meeting at Secular Hall, 75 Humberstone Gate, Secular Hall, Leicester, LE1 1WB. The meeting was chaired by Olive Tsungirirai Kahiya.
Register of attendance
Nicolate Gwati, Tsungirirai Kahiya, Richard Jaramba, Lilian T Nleya, Kingdom Mvumi, Cloud Chunga, Herbert Tayengwa, Weston Mupfururirwa
Agenda
Opening prayer
Matters arising from previous meeting
Secretary's report by Nicolate Gwati
Fundraiser's report by Marian Mangani
Organising Secretary's report by Lilian Nleya
Treasure's report by Grace Makoni
Communication and timekeeping
Any other business
Closing prayer
Meeting started 14:30hrs
Secretary's Report by Nicolate Gwati
Nicolate started by summarising matters arising from the previous meeting before steering the meeting towards allocation of action points.
Action points were allocated as follows;-
Researching on rapes – Lilian Tinashe Nleya
Researching on Arbitrary arrests – Nomagugu Sibanda
Researching on Civilian shootings – Nicolate Gwati
Researching on Harassment in the neighbourhood – Daisy Mandianike
Researching on Abductions – Marian Managani
Researching on Corruption – Ruvimbo Ruzvidzo
A suggestion was also made for members to create a skit that would mark the launch of the forthcoming "injustices campaign".
Fundraiser's Report by Marian Mangani
The food donated was as follows: Derere, Lacto culture milk, Madora, soft drinks, Maheu, Chicken, stew, Mutakura, Rice with peanut butter, hard chicken. peanuts/nzungu, water, mazondo and snacks.
These were donated by the following members;Grace Makoni, Marian Mangani, Nomagugu Sibanda, Weston Mupfururirwa, Precious Moyo, Lilian Nleya, Lydia, Sandra Chidemo, Nicolate Gwati, Daisy Mandianike and Olive R Ruzvidzo.
Weston Mupfururirwa also donated face painting kit whilst Lilian Nleya also donated cloths for car wash worth £5 and fairy liquid.
Other donations were Beauty packs and 5 Key rings.
Organizing Secretary's Report by Lilian Nleya
Family, Fun and Culture Day 2019
The Family, fun and culture day took place on the 31st of August. A big thank you to all who donated money, food and labour to the event.
The turnout was disappointing but not surprising due to the disharmony in the Board of Trustees and the resultant confusion in the UK Chapter.
No activities were undertaken due to the poor turnout. Even Midlands members who were expected to turn out in their numbers due to proximity were happy to donate food and money but did not attend the event.
Campaigns
We have been trying to click start campaigns in the past few monthsto highlight the Human Rights abuses and injustices in Zimbabwe. This has not been fruitful as the participation of members is very poor.
The meet Your MP campaign was a success and due to the increase in human rights abuses in Zimbabwe this campaign will be started again, and I am encouraging all members to take part.
A new UK Chapter Executive Committee was voted in on 9th August 2019.
Zimbabweans will be protesting against the SADC Chairperson at the Tanzania Embassy in London on the 25th of October 2019 and most of our members in the UK will be participating.
UK Chapter and Midlands Branch Christmas Parties – Dates yet to be confirmed.
Treasurer's Report by Grace Makoni
Daisy Mandianike donated £5 towards the Culture Day in August
Proposed Campaign
Richard suggested that we need to do a campaign that looks at how personal freedoms in Zimbabwe have been violated
He also encouraged us to be consistent with our message if we want to have an impact
Nicolate suggested that we could focus on how corruption is killing the country and Tsungi suggested that we could name the campaign 'Corruption is how they rob us.
Under this campaign we could look at the situation in our hospitals, sanitation in Zimbabwe, Lack of education due to lack of money to pay for fees, fuel shortages, food shortages, lack of economic and social reforms, the government's bid to silence people, the issue of cartels in the fuel industry and the diamond revenue that went missing
It was suggested that demonstrations could be staged in each UK Midlands city where our members reside.
All the agenda items were deliberated upon in detail and in a robust and enthusiastic way in a meeting where everyone present made contributions.
With all the agenda items having been disposed of, the Chairperson declared the meeting closed at 16.00 hrs.
To view pictures taken at the event, click here.
By: Information & Publicity Department
Cover pic: https://www.flickr.com/photos/rohr_zimbabwe__manchester/48776146811/in/album-72157711017421878/