23rd November 2019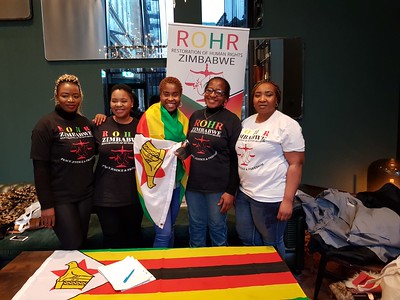 On Saturday the 23rd November 2019, the Scotland Branch of the UK Chapter of Restoration of Human Rights (ROHR) Zimbabwe held a meeting at Motel One, 78-82 Oswald Street, Glasgow, G14PL, Scotland. The meeting was chaired by Olivia Chamboko (Branch Chairperson)
Register of Attendance
Alvina Chibhamu, Abigail Wadzanayi Chidavayenzi, Linda Chenyama, Vongayi Mufara and Olivia Chamboko
Agenda
1. Reading and adoption of previous minutes
2. Matters arising from previous minutes (demonstration)
3. Tasks Update
4. Fundraising report from last demonstration
5. Identifying a theme and plans for the new year
6. Any other business
Meeting start 12:00
Reading and adoption of previous minutes
– Olivia started by welcoming everyone.
– Acting Secretary Vongayi Mufara gave a report on points that were raised at the last meeting.
-The minutes of our last meeting on the 26th October 2019 were read and adopted.
– Olivia Chamboko discussed the regular absence of some committee members.
– Some have been found never to be in attendance of any meeting since inception.
– Olivia will first contact them to find out if they still want to commit as members before proceeding to liaise with Mr Karimanzira and Mr Mapfumo regarding a way forward with this issue in line with our constitution.
– On the same note, Vongayi Mufara suggested that if anyone can volunteer to phone them and encourage them to come to the meetings
Matters arising from previous minutes (demonstration)
– Olivia Chamboko explained to the group the process of planning a campaign and demonstration.
– She explained all the stages so that any member could do it in the future. The process included, among other things, asking for permission from Glasgow Council and notifying the local Police.
– Olivia Chamboko talked about the people we met during our last demonstration and signed our registerto be contacted via email.
– Alvina Chibhamu was assigned to contact those members of the public to invite them to our meetings or ask if they're happy to be kept abreast of the situation in Zimbabwe via e-mail.
Fundraising report from last demonstration
– The Treasurer (Abigail Wadzanayi Chidavayenzi) gave a report on money collected against expenses for our last demonstration.
– Olivia Chamboko (Chairperson) updated that funds raised from last month's campaign (# NoToPoliceBrutality) will be sent to a victim of police brutality in Zimbabwe.
– Vongayi Mufara reported that the branch managed to identify a fitting beneficiary of the funds. This beneficiary was a confirmed victim of Police brutality in Zimbabwe. For their safety, we shall call them "EC" (Not their real initials).
Identifying a theme and plans in the New year
– Vongayi Mufara (Organising Secretary) suggested monthly contributions of £5/person which will go towards helping us buy drinks and eats during meetings, for example. All present agreed.
– Alvina Chibhamu (Branch Secretary) suggested that we do a Bring and Share Lunch to our next meeting.
– We would charge a small fee per plate as a way of fundraising.
– Alvina also suggested we each invite and bring someone, invite friends and family to this January fundraiser so that they can see and hear what we are about as ROHR Zimbabwe.
– Vongayi Mufara offered the use of her house for this Bring and Share in January.
– Linda Chenyama (Fundraiser) added that we should try and encourage old members to come for the meetings.
Any other business
– Olivia Chamboko put it to all members to come up with ideas of campaigns for 2020 and aim to hold more demonstrations.
– Alvina Chibhamu suggested that we invite other branches for our next demonstration.
– Abigail Wadzanayi Chidavayenzi suggested that we need to go introduce our group to the Zimbabwe Consulate at the Glasgow office.
Action
Alvina Chibhamu to call the Zimbabwean Embassy in London to get the information about Consulate in Glasgow.
Olivia announced that there was no meeting in December.
All agenda items and any other business having been exhausted
All agenda items and any other business having been exhausted, Olivia Chamboko declared the meeting closed at 16:00 hrs.
To view pictures taken at the event,click here or follow the link below.
By: Information & Publicity Department
Cover Picture:- https://www.flickr.com/photos/rohr_zimbabwe__manchester/49112300842/in/album-72157711907132062/