25th January 2020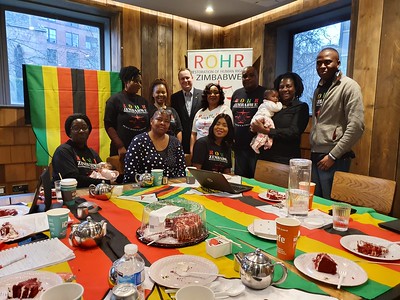 On Saturday the 25th January 2020, the Scotland Branch of the UK Chapter of Restoration of Human Rights (ROHR) Zimbabwe held a meeting at iCafe, Merchant City,70-72 Ingrams Street, Glasgow, G1 1EX Scotland. The meeting was co-chaired by Alvina Chibhamu and Olivia Chamboko.
Register of Attendance
Alvina Chibhamu, Linda Chenyama, Vongayi Mufara, Olivia Chamboko, Panyika Karimanzira, Harriet Ndlovu, Delina Mutyambizi, Vengai Mutsawu, Jacob Mhlanga, Thenjiwe Ndlovu and MP Chris Stephens (Glasgow South West)
Apologies were received from Abigail Wadzanayi Chidavayenzi
Agenda
Engagement with MP Chris Stephens (Glasgow South West)
Reading and adoption of previous minutes
Matters arising from previous minutes
Fundraising report from monthly contributions by members
Planning our year calendar
Any other business
The meeting started at 12:00hrs
Engagement with MP Chris Stephens (Glasgow South West)
Alvina Chibhamu started by welcoming everyone and asked for self-introductions after which she acknowledged the presence of those who had travelled from afar namely, Jacob Mhlanga from Dublin, Republic of Ireland, Delina Mutyambizi from Manchester, Vengai Mutsawu from Bolton and Panyika Karimanzira from Huddersfield. She also welcomed the new members who just joined Scotland branch, namely Harriet Ndlovu and Thenjiwe Ndlovu. She also acknowledged the presence of our guest of honour- her MP, Rt Hon Chris Stephens MP for Glasgow South West.
Mr Panyika Karimanzira (Board member and Spokesperson- ROHR Zimbabwe) started by narrating to Chris Stephens the history of ROHR Zimbabwe and the integrity of the organisation.
Rt Hon Chris Stephens MP advised that he now had a better understanding of the human rights situation in Zimbabwe and why there were so many Zimbabweans who had sought asylum in the United Kingdom.
He also promised to raise the matter of Zimbabwe in parliament at every given opportunity. He asked us to ask any questions that we might have or to raise any Zimbabwe related matters to him via email.
Chris said his office is open if we needed help.
He also took the time to answer a couple of questions from ROHR members.
While we were having an open discussion with the MP, Delina Mutyambizi (Board member and Treasurer – ROHR Zimbabwe) encouraged members to attend and participate in meetings and other ROHR activities such as demonstrations and campaigns and to continue with activism.
Jacob Mhlanga also encouraged the members to engage their MPs pertaining to the Zimbabwe situation so that the more the MPs we see, the more chances we have for our issues to be discussed in the parliament.
Reading and adoption of previous minutes
Organising Secretary Vongayi Mufara gave a report on points that were raised at the last meeting.
The minutes of our last meeting on the 23rd of November 2019 were read and adopted.
Matters arising from previous minutes
Vongayi Mufara (Organising Secretary) reported that the branch managed to identify a victim of brutality from the police in Zimbabwe and she was in contact with the victim through WhatsApp messages and emails.
Alvina Chibhamu (Secretary) reported that she emailed the people who signed our register on our last demonstration and no one has responded yet.
Alvina Chibhamu called the Zimbabwean Embassy in London to get the information about the Consulate in Glasgow but she was informed that the office in Scotland is not yet functional.
Fundraising report from the last demonstration and the monthly membership contributions.
The Acting Treasurer Olivia Chamboko gave a report on the donations that were made during our demonstration.
Alvina Chibhamu encouraged all members to keep up to date with their subscriptions and monthly contributions.
Planning our yearly calendar for 2020
Alvina Chibhamu suggested that we should be organised and plan our yearly calendar for the branch. She suggested holding at least 4 planned demonstrations as well as ad hoc ones.
Vongai Mufara suggested that we should do more campaigns, including clean-up campaigns. She also suggested fundraising for sanitary pads for the girls in Zimbabwe.
Olivia Chamboko also suggested that we should give back to the community by volunteering in our communities and shelters for the homeless and the needy.
Alvina Chibhamu talked about increasing the visibility of ROHR in Scotland.
Olivia Chamboko came up with the idea of reaching out to national newspapers for coverage of our articles and activities, so we can be visible in the wider communities and encourage more people to sign up.
Alvina Chibhamu suggested Leafletting across the city.
The board members applauded these ideas and recommended that they are considered for rolling out across all branches of the U.K. Chapter of ROHR Zimbabwe.
Any other business
Mr Panyika Karimanzira explained the latest changes in the Board of Trustees of ROHR Zimbabwe. He explained the new responsibilities of the Board members since the recent resignations of the former Chairperson, Grace Mupfurutsa and her deputy, Ronald Mureverwi.
He said that there would be a rebranding of the organisation and the Executive will approach the members of the organisation to contribute with ideas.
Mr Karimanzira spoke about the charity status of the organisation saying it has been difficult to apply and get approval from the relevant authorities. He said the Board of Trustees will continue to work on the issue.
Vongai Mufara enquired about our offices in Zimbabwe and Mr Karimanzira responded by saying that there was no office at the moment in Harare for security reasons.
Delina Mutyambizi spoke about coming up with ideas for fundraising so we can help each other and keep the organisation running.
Olivia Chamboko announced the date for the next meeting as the 29th of February 2019. Special thanks were extended to Linda Chenyama and Abigail Wadzanayi Chidavayenzi for inviting guests who subsequently joined our organisation today.
All agenda items and any other business having been exhausted, Olivia Chamboko declared the meeting closed at 16:00hrs.
To view pictures taken at the event,click here or follow the link below.
By: Information & Publicity Department
Cover Picture:- https://www.flickr.com/photos/rohr_zimbabwe__manchester/49443353833/in/album-72157712843069443/