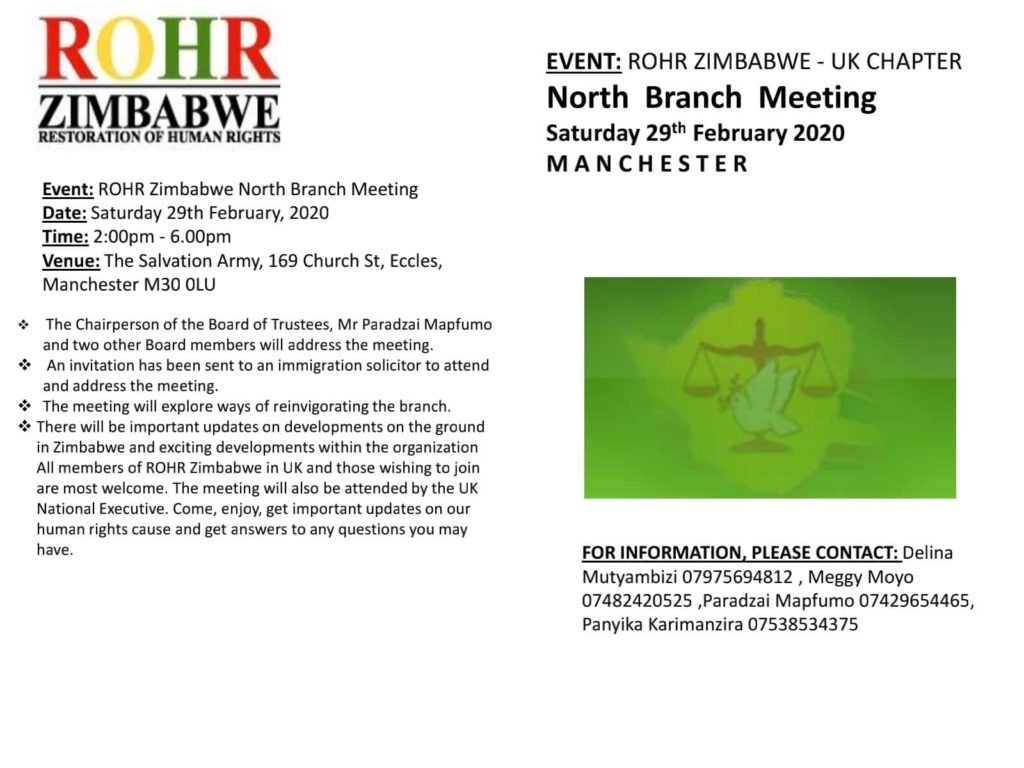 NOTICE – ROHR Zimbabwe North Branch Meeting – Saturday 29th February 2020 – Eccles, Manchester
Event: ROHR Zimbabwe North Branch Meeting
Date: Saturday 29th February, 2020
Time: 2:00pm – 6.00pm
Venue: The Salvation Army, 169 Church St, Eccles, Manchester M30 0LU
The Chairperson of the Board of Trustees, Mr Paradzai Mapfumo and two other Board members will address the meeting.
An invitation has been sent to an immigration solicitor to attend and address the meeting.
The meeting will explore ways of reinvigorating the branch.
There will be important updates on developments on the ground in Zimbabwe and exciting developments within the organization
All members of ROHR Zimbabwe in UK and those wishing to join are most welcome. The meeting will also be attended by the UK National Executive. Come, enjoy, get important updates on our human rights cause and get answers to any questions you may have.
FOR INFORMATION, PLEASE CONTACT: Delina Mutyambizi 07975694812 , Meggy Moyo 07482420525 ,Paradzai Mapfumo 07429654465, Panyika Karimanzira 07538534375