15th February 2020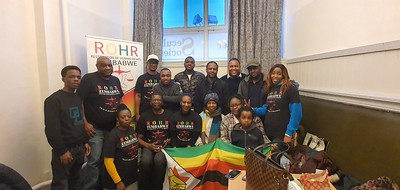 On Saturday the 15th of February 2020, the Midlands Branch of the UK Chapter of Restoration of Human Rights (ROHR) Zimbabwe held a meeting at The Secular Hall Leicester,75 Humberstone Gate, LE1 1WB, Leicester. The meeting was chaired by Acting Chairperson Nicolate Gwati (Nikki).
Register of Attendance
Nicolate Gwati, Nomagugu Sibanda, Tsungirirai Kahiya, Kingdom Mvumi, Lilian Nleya, Marian Mangani, Paradzai Mapfumo, Praise Ndlovu, Kumbirai Hwami, Estery Dliwayo, Vengai Mutsawu, Panyika Karimanzira, Weston Mupfururirwa, Musawenkosi Dladla, Simon Miller, Shingirai Kandi, Nigel Mbohwa.
Agenda
1. Introductions
2. Vision for each department
3. Engagement with BOT members
4. Any other business
5. Membership and renewals
Meeting starts at 14:50hrs
The chairperson introduced the new committee members for the branch in 2020 as follows;-

Acting Chairperson                                                  : Nicolate Gwati
Secretary                                                                   : Nomagugu Sibanda
Acting Information and Publicity Officer             : Tsungirirai Kahiya
Organizing Secretary                                               : Lilian Nleya
Treasurer                                                                   : Weston Mupfururirwa
Fundraiser                                                                 : Marian Mangani
The Chairperson then acknowledged the Board members from the UK Chapter:
– Mr Panyika Karimanzira – the Spokesperson for ROHR Zimbabwe
– Mr Paradzai Mapfumo – The Chairperson and Co-ordinator for ROHR Zimbabwe
Vision for each department
The Acting Chairperson – Nicolate Gwati   
Nicolate stated that her vision as Chairperson is to encourage each member of the branch to be aware of what's happening on ground in Zimbabwe by initiating the Current Affairs segment where we talk about what will be happening in Zimbabwe on a week by week basis.
Currently we have a shortage of mealie-meal in Zimbabwe and millions of people are facing starvation this year and will need food aid. In 2018 the government set aside US$400m for command agriculture but we haven't seen the fruits of this. The Grain Marketing Board of Zimbabwe was also given US$27m for the procurement of maize but this money has also been misappropriated. As a human rights organisation we need to take the government to task over these misappropriated funds.
The government also announced the new wages for domestic workers as $160RTGS per month. This money is not sufficient for them to make a living what more to pay for the exam fees for their children as a single subject costs $190RTGS.
The Motlanthe commission was implemented after the August 2018 killings to assess the killings and to also come up with recommendations that the government could implement. President Mnangagwa announced on the 6th of February 2020 that the government had implemented most of the recommendations. Upon reflection however it appears that they actually haven't been implemented as there is still no political tolerance, accountability in respect of the alleged perpetrators and also no payments have been made yet to compensate for losses and damages that resulted from the killing of civilians.
Information and Publicity Officer vision by Tsungirirai Kahiya
Tsungi encouraged people to check out the ROHR Facebook, Twitter and Flickr accounts. People were also encouraged to like posts and make comments on Facebook and Twitter
She encouraged people to be involved in the things that happen in the organisation as it is everyone's duty to take part in the campaigns, demonstrations and fundraising events.
She also spoke about ensuring that our campaigns trend on social media so that we will be known and heard
The secretary's vision by Nomagugu Sibanda
Noma indicated that we need to look at the objectives of what we wanted to accomplish last year and work on the things that we didn't manage to accomplish and work on accomplishing those things
She also indicated that our objectives need to be realistic and achievable and should also be aligned with our budgets
Organizing secretary's vision by Lilian Nleya
Lilian recommended that we revisit the campaigns that were done 2019 and the objectives that were not accomplished last year
She also recommended the following to be considered for the demonstrations that we plan to have: –
a) Corona virus outbreak
b) Mary Chiwenga's arrest
c) Maize meal shortage
Fundraiser's vision by Marian Mangani

Marian suggested that we have a talent show where people can do various things to showcase their talent
She also suggested that a prize could be offered for the best talent that is showcased
She also suggested that we sell wrist bands and earrings so that we can raise money
Treasurer's vision by Weston Mupfururiwa

Weston gave us the balance of the money that is in our Branch account as of 15 February 2020
We also have a Honey Pot which is a pot of money that will enable branch members to attend meetings and demonstrations if they cannot afford to attend
Engagement with the Board of Trustees members

Mr Karimanzira indicated that a Board meeting had been held on the 18th of January 2020.
From this Board meeting new positions were appointed, and the Board now stands as follows:
Mr Mapfumo – Board Chairperson and ROHR Coordinator
Mr Karimanzira – ROHR Zimbabwe Spokesperson
Edgar Mureverwi – ROHR Zimbabwe Secretary
Delina Mutyambizi – Treasurer 
Mr Panyika Karimanzira also indicated that they are looking to add more people to the Board of Trustees in due course
Nicolate asked Mr Karimanzira if he could give an overview of the organisation and what the aims and the objectives of the organisation are
He indicated that ROHR is a non-political human rights organisation which focuses on the human rights of citizens in Zimbabwe. He narrated the history of the organization from pre-registration, registration with the Registrar of Deeds on 30th August 2007 right through to today.
Any Other Business

Mr Panyika Karimanzira invited everyone to the North branch revival meeting which will be held on the 29th of February 2020 in Manchester
Mr Panyika Karimanzira announced that the newly elected Chairperson of the UK Chapter Executive Committee is Mr Kingdom Mvumi
All agenda items and other business having been exhausted Nicolate Gwati declared the meeting closed at 17:00hrs
To view pictures taken at the event, click here or follow the link below.
https://www.flickr.com/photos/rohr_zimbabwe__manchester/albums/72157713134895458
By: Information & Publicity Department