20th June 2020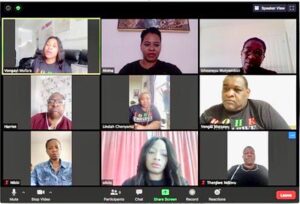 The Scotland Branch of the UK Chapter of Restoration of Human Rights (ROHR) Zimbabwe convened a meeting via zoom from 2pm over two 40 minute sessions on Saturday, the 20th June 2020. Some members of the board of trustees and from other branches also attended this meeting. Vongayi Mufara (Organising Secretary) chaired the meeting.
Register of Attendance
Vongayi Mufara (Meeting Chairperson), Alvina Chibhamu (Secretary), Olivia Chamboko (Branch Chairperson), Lindah Chenyama(Fundraiser Committee Member), Harriet Ndlovu (Deputy Treasurer), Thenjiwe Ndlovu, Panyika Anselm Karimanzira (Board member & ROHR Zimbabwe Spokesperson), Nicolate Gwati (Secretary-UK Chapter), Delina Mutyambizi (Board member & ROHR Zimbabwe Treasurer), Shingirayi Kandi, Kingdom Mvumi (National Chairperson-UK Chapter), and Vengai Mutsawu (Deputy Chairperson-North Branch, UK Chapter).
No apologies were received from non-attending branch members.
Agenda

Introductions
Confirmation and adoption minutes
Space for leadership address
Initiative report on tasks from each department
Actions
Any other business
Introductions
Vongayi Mufara chaired the meeting and started by doing a roll call. Everyone took it in turns to introduce themselves, their respective branches and portfolios.
Confirmation and adoption of the last meeting minutes
Alvina Chibhamu had e-mailed the minutes of last meeting to attending members. They had all come back to say they were correct, and the minutes were adopted.
Leadership address 
Vongayi Mufara acknowledged the presence of our elite / honourable guests and gave them floor to speak as some had expressed that they would not be able to stay the course of the meeting.
Kingdom Mvumi, on behalf of the national executive committee of the UK Chapter of ROHR Zimbabwe, started by commending the sterling efforts of Scotland as a branch. He complimented us for taking on challenges, putting ROHR on the map and setting examples for the organisation and encouraged us to keep up the momentum and the good work.
Mr Panyika Karimanzira concurred with Kingdom about the work ROHR Scotland branch is doing. He picked on the success of our last campaign video, commenting that the work we are doing speaks for itself. In particular, our campaign video has indeed been shared widely and he exclaimed how he has come across it on unlikely platforms, places we can never imagine, which goes on to prove the popularity of the content. With appearances under our handle as ROHR, as well as other notable news outlets like ZimEye and Vuka. He made mention of stumbling on it on a South African website (link to be provided). Mr Karimanzira also commented on the real impact of the video due to its good quality and presentation. He said the video came across so natural (not acted) with everyone really speaking from the heart.
Mr Panyika Karimanzira touched on the continued persecution of activists in Zimbabwe. He cited the case of the three MDC activists, namely Joana Mamombe (MP), Cecilia Chimbiri and Netsai Marova who were abducted on Wednesday 13th May 2020, tortured and sexually violated, in Harare by suspected Zimbabwe state security agents and that of the two Bulawayo sisters, Nokuthula and Ntombizodwa Mpofu, who were arrested and tortured by the Police in Bulawayo on 16th April 2020 that we covered in our video. He also cited the case of the two activists, Namatai Kwekweza and Vongai Zimudzi who were arrested and persecuted in Harare on 19th June 2020 for challenging the defective constitutional amendment outreach programme that was underway. The ladies challenged the amendment exercise of the 2013 constitution on the grounds that people could not participate in their numbers due to the Covid-19 induced lockdown which placed restrictions on the movement and congregation of people. The sudden change from a physical meeting to a zoom based consultation did not help matters as there was no ample notice of the change. Also, the government is yet to align the laws of Zimbabwe to that constitution, so any amendment is not in the national interest but rather for personal gain by the President. If successful, ED Mnangagwa will have more power, thereby making him officially a dictator. Consequentially, people's views will be quashed, anybody who will speak will be persecuted.
Mr Karimanzira advised that we could add these instances to our ongoing campaign. He cited Estery Dhliwayo who wrote an article on the ROHR Zimbabwe blog, covering some of these violations. He urged us to utilise the blog, we need to fight for these girls in the same spirit we have been fighting for other Human rights violations. Ultimately, he urged us to keep up the good work.
Vongayi Mufara reminded other branches to join in so they can pick up on these latest happenings.
Kingdom Mvumi added that other branches needed to come on board and contribute towards #Stopviolenceagainstwomen campaign. He will talk to the national executive to see how other branches can come in.
Delina Mutyambizi shared that she was impressed by how the video came out naturally- and did not seem acted evoking real emotion in herself. She also applauded our efforts for producing this high-quality video.
Initiative report on tasks from each department
Following the government's failure to support citizens and corruption surrounding covid19 relief, many makeshift kitchens have sprung up in Zimbabwe. Vongayi Mufara announced that ROHR Scotland branch came up with an initiative to contribute towards the Epworth Food kitchen. Each member was assigned a portion of research to report back on the meeting.
Alvina was tasked with contacting the board about our charity activity and give feedback. We wanted to ensure we get the right direction with regards to putting ourselves out there as representatives of ROHR. Alvina fed back that we had got a blessing to go ahead, having been signposted to previous charitable deeds ROHR has been involved with that are well documented on our website. These acts may also enhance our chances of attaining charity status when we can demonstrate the work we have been doing.
Linda researched on the history of the community we have chosen to assist. She told of how this Kids Breakfast was started by two women: Caroline Bushu and Sandra Chikwama in Epworth, one of the largest and poorest communities in Harare. This kitchen supports up to 100 kids daily in the community cooking porridge for them. Along the way, they faced challenges from the city council who threatened them with closure for health & safety reasons. However, it has been established that they have since overcome those hurdles and are carrying on with feeding children during the Covid19 pandemic.
Vongayi liaised with Caroline and Sandra, informing them we are not a registered charity so the funds will be coming from individuals and well-wishers in recognition of the great work they are doing on the ground where the government has clearly failed to be counted. The objective is to increase exposure of their amazing work and attract more donations from elsewhere. They were pleased we wanted to help and agreed that no donation would be too small.
Harriet, working alongside Olivia, researched on the prices of basic commodities such as mealie meal, sugar and peanut butter. She came up with the least costs at wholesale prices and they would be able to deliver to Epworth on the day of purchase. Initial suggestion was to contribute 10 of each item and she gave the figures. Harriet announced she managed to fundraise £40, which is amazing efforts from her.
Olivia was assigned to making enquiries for possibly making a banner for ROHR with all our social handles etc which would be used for this project and can be kept for future projects on the ground. She will also make enquiries for someone to help with presentation of donations on our behalf, ideally a representative of ROHR in Zimbabwe, if possible.
Delina offered to carry the message to the board of trustees group and invite board members to make contributions. With regards to presentation of the donation in Harare, she will reach out to the Zimbabwe based ROHR Zimbabwe board member and ask if they can do the presentation.
Vengai Mutsawu enquired about the banking details to be used for the donations. To be advised in due course.
Thenjiwe Ndlovu enquired if there is a minimum amount anyone can contribute. Minimum contribution set at £5 (which is our monthly subscription- resumed this month) but even at that, we will still have a shortfall.
Mr Panyika Karimanzira (upon re-entry to the zoom call) suggested the branch share the initiative with the rest of the U.K. chapter and invite the wider membership of ROHR Zimbabwe in case some people wanted to contribute towards this cause, even if they are not members of Scotland Branch.
Actions
Await feedback from Delina if Edgar is available to present the donation for us
Alvina to contact national secretary to invite contributions from all ROHR branches or members
Deadline for contributions set as month end i.e. Wednesday 1st July 2020.
Any other business
Alvina Chibhamu reported what she had learnt a lot from attending other branch meetings, namely Midlands and North branches. One thing to feedback was that the letter for #MeetyourMP campaign would be updated to include recent violations. We have, in other capacities, been able to congregate about 15 MPs on a zoom call- so we aim to replicate that and each member can invite their MP.
She announced North Branch campaign to include a banner that will be relayed across all branches, invited contributions if anyone wanted to chip in.
Picking up on our campaign video being widely shared, here are the stats as at 20th June 2020;
YouTube 2, 655 views (shared 7th June)
Facebook 1,676 views (shared 7th June)
ZimEye (shared 18th June- 1.5K Views)
Vuka (shared 18th June- 826 views, 34 shares)
Vongayi also highlighted opportunities from sharing our video. For example, "Tripod training", after having attended their bootcamp in February, were proud we took some of their training on board and shared our video on the platforms. They have promised support in media training-how to do videos etc or provide someone who can edit our videos for us for free.
Nicolate Gwati commended us for the video and in turn invited us to come up with things to be included in the letter to MPs so our voices can be included as well. She suggested sharing our campaign video via twitter on personal handles as twitter is the quickest platform for sharing- ask friends to re-tweet and tag people so they can re-tweet.
Delina reiterated she was emotional from our video. Her parting words were" Don't give up, continue fighting for Human rights, right now Zimbabwe needs us and we have to stand".
N.B* We had to exclude one visitor who entered our zoom call and would not identify themselves and no one recognised them either. Measures to be taken to increase security of the zoom call so the host can sensor attendees.
Olivia Chamboko announced the date for our next meeting as Saturday18th July 2020 from 2pm to 4pm.
Having exhausted all items on the agenda and any other business, Vongayi Mufara thanked everyone for attending and declared the zoom call closed at 15:20hrs.
To view pictures taken at the event, click here.
By: Information & Publicity Department