16th August 2020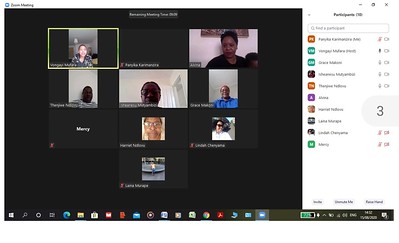 On Saturday the 15th August 2020, the Scotland Branch of the UK Chapter of Restoration of Human Rights (ROHR) Zimbabwe held a meeting via zoom. The meeting was chaired by Thenjiwe Ndlovu (Information & Publicity Secretary).
REGISTER OF ATTENDANCE
Alvina Chibhamu, Masciline Mzondiwa, Harriet Ndlovu, Lindah Chenyama, Thenjiwe Ndlovu, Vongayi Mufara, Grace Makoni, Panyika Karimanzira, Laina Murape, Delina Mutyambizi.
Apologies were received from Olivia Chamboko
Agenda
1. Confirmation and Adoption of minutes of previous meeting
2. #ZimbabweanLivesMatter Campaign
3. Letter to the First Lady of Zimbabwe
4. Call on Research & Reports on #HumanRightsViolationsUnderED
5. What's Happening in ROHR (Other Branches)
6. Treasury Report
7. Any other business
Thenjiwe Ndlovu, the meeting chair, opened the meeting at 1400hrs and started with greetings and introductions. She mentioned the recent sad passing on of one of our own, Eveline Kuwaza and gave thanks for the contributions collected for condolences and sent to the family. We observed a minute of silence as we said a prayer for our dear departed.
1. Approval Of Minutes
– Alvina Chibhamu called for seconding of last months minutes as a true record.
– The minutes of the previous meeting were unanimously approved as distributed.
2. #ZimbabweanLivesMatter Campaign
– Vongayi updated on us on #ZimbabweanLivesMatter.
– She stated if people can come with something for ROHR, we discuss in the committee group, or come up with messages get them approved or make a video then post it online.For example,what we did on the rape campaign.
3. Letter to the First Lady of Zimbabwe
– Olivia (in absentia)suggested writing a letter to the first lady regarding Human Rights violations in Zimbabwe
– Vongayi came in and stated as a suggestion that as first lady,Auxilia Mnangagwa is supposed to address what is happening in Zimbabwe; women being abused,abducted and she is not doing or saying anything, as if she is supporting what is happening.
– Thenjiwe added that people are celebrating the National Women's Month and is not aware of what we are doing as a country.
– Alvina advised all of us to send our content to put in the letter through to her inbox so she can draft the letter. A time frame of one week was suggested to submit the contributions.
4. Call on researches and report on #HumanRightsAbusesUnderED
Alvina stated that the ongoing petition which was launched on the 20th July 2020 is doing well, gained lot of traction and has so far garnered 25,100 signatures. Really fantastic and she encouraged all to continue to share on different platforms.
Delina stated that people in Zimbabwe are now reading and signing up petitions. She highlighted the ongoing petitions of; #FreeHopewell&Ngarivhume, Zimbabwe embassies to be closed and Nick Mangwana's family to be deported from the UK. Petitions are doing well and we hope to achieve more with these petitions ideas from other branches meetings.
Alvina attended the North branch meeting and was encouraged by how they involve each other in a way e.g. they are given tasks to go and research and come back to report on the group.
What's Happening in ROHR (Other Branches) 
Alvina encouraged all members to read the minutes on the website from other branches so that we are well versed on what is happening in the organisation.
She implored each member to be round the clock activists not just for the one day we attend a meeting. Members to share findings on WhatsApp and tag each other on our social media handles just in case someone missed what is going on.
31stJuly Demo attendance
GeorgeSquare-Glasgow: Thenjiwe Ndlovu, Alvina Chibhamu, Edward Rhappozzoh, Harriet Ndlovu
Zimbabwe House- Strand London: Masciline Mzondiwa, Vongayi Mufara, Lindah Chenyama, Kingdom Mvumi
Manchester:Delina Mutyambizi, Marian Mangani,
Vongayi stated that we ought to be encouraged by the way things are happening back home in terms of citizens participating in governance issues and posting on their social media platforms. Therefore, we need to do something, leading and pushing.
Treasury Report
Harriet (Vice Treasurer) encouraged people to pay monthly subscriptions and reported the branch balance of £113,75 including Epworth kitchen donations.Other branches contributed towards helping the current situation back home, for example people are being abducted, being arrested and they will need to go to court, they will also need transport fees and hospital bills. Alvina raised 30 pounds from selling Zimbabwean flags on the 31st July demo in Scotland.
Vongayi was encouraged by the innovation in the area of fundraising. She cited the way Alvina was selling Zimbabwean flags as an example. she also observed the selling of t-shirts and peanuts in London to fundraise. She also encouraged others if we could do a group or individual fundraiser and sell something on the 5th of September 2020 demo that will be held in Edinburgh (Scottish parliament)
Mercy also supported what Vongayi said. She cited the example of people who were selling bottled water at the most recent demo in London. We could also do the same on 5th of September 2020 demo. Let's encourage all of us to go in big numbers, those who will be free on the day.
– Alvina already got flags to sell
– Lindah will bring corn and peanuts to sell
– Mercy and Vongayi will bring bottled water to sell
7. Harriet requested if Glasgow branch could make flyers to market the 5th September 2020 demo in Edinburgh. She would distribute the flyers in her circles. Other members would do the same. The flyers would highlight the atrocities in Zimbabwe as a selling point.
Any Other Business
Vongayi encouraged everyone to attend a free training organised by Tripod for Power and learn how to create videos. For those who have not signed for the training, they should inbox Vongayi.
Delina already has ROHR t-shirts but she will send them when she receives accurate numbers.
Mr Panyika Karimanzira told of how Delina Mutyambizi and he have been communicating with the high profile youth activists in Zimbabwe who, he said, narrated horrendous ordeals at the hands of Zimbabwean state agencies. He was moved to tears as he narrated. He said these children needed our support badly since they could not stand on their own. These young activists are trending on social media but, sadly, the "likes" are not translating into practical help when they get abducted, tortured or arrested on trumped up charges.
Delina took over the explaining as Mr Karimanzira choked with emotion. She named for example Namatai Kwekweza and Tawanda Muchehiwa who is in hospital. They are also liaising with their families on what they are going through. Delina stated that in a country where there is no rule of law like Zimbabwe, the activists cannot hope to get commensurate attention when they report their cases to the Zimbabwean Police. If you hear them talking you feel emotional hence we need to be there for them. Regardless of what they are facing, they remain committed to the cause, you will hear them saying "we are going out to do our activism".
Delina finished by complementing our branch,she said we are doing well
With all agenda items and any other business having been exhausted, Thenjiwe declared the meeting closed at 1600hrs.
To view pictures taken at the event, follow the link below.
https://www.flickr.com/photos/rohr_zimbabwe__manchester/albums/72157715504615766
By: Information & Publicity Department