25th August 2019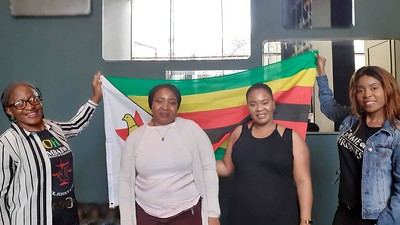 On Saturday 24th August 2019 the Scotland Branch of the UK Chapter of Restoration of Human Rights (ROHR) Zimbabwe held a meeting at Motel One, 78 – 82 Oswald Street, GlasgowG1 4PL, Scotland. The meeting was co-chaired by Vongayi Mufara (Branch Organizing Secretary) and Alvina Chibhamu (Branch Secretary). It started at 14:30 hrs.
Register of attendance
Alvina Chibhamu, Vongayi Mufara, Lindah Chenyama and Abigail Wadzanayi Chidavayenzi.
Apologies were received from Olivia Chamboko.
The meeting discussed, among other things;-
Minutes of the previous meeting,
Matters arising from the minutes of the previous meeting,
Membership mobilization
Branch Executive Committee's skills set and deployment
Members' welfare
Recent developments and current state of affairs on the human rights front in Zimbabwe
Action plan and tentative diary for remainder of the year
Among other things the meeting agreed a number of actions resulting from the discussion of each agenda item.
Some of the action points agreed were;-
Abigail (Treasurer) to inquire about bank account opening process with a view to opening an account for the branch,
Abigail to inquire about potential venue(s) for demonstrations with a view to holding local demonstrations / vigils in order to raise public awareness of the Zimbabwean human rights situation in Scotland.
Lindah Chenyama (Fundraiser) to explore fundraising opportunities with a view to raising enough funds to make the branch self sustaining.
Vongayi Mufara (Organizing Secretary) to call all members individually with a view to assessing membership welfare needs,
All to mobilize for the 31st August 2019 Zimbabwe Culture Day organised by the UK Chapter of ROHR Zimbabwe and being held in Nottingham.
All to mobilize for the 25th October 2019 London demo against the SADC Heads of States decision to campagn for the removal of targeted sanctions against individuals in the Zimbabwean political elite.
All agenda items and any other business having been exhausted, Vongayi Mufara declared the meeting closed at 16:45 hrs.
To view pictures taken at the event, click here or follow the link below.
By: Information & Publicity Department